Quality control in pharmaceutical care
provides medication safety and efficient operational management
About GPP Support
GPP Support aspires to be the number one solution partner for hospitals and other healthcare institutions to optimise the pharmaceutical care in all its aspects. As an independent party, GPP Support works with pharmacists and management of institutional and hospital pharmacies, boards of directors and pharmaceutical and technology companies.
Medication safety is a guiding theme in our work. We believe in making medication services safer in an organisation that is geared to its task and knows where it is going. Together with a network of experienced project and interim managers, we offer a structural solution for any issue within our field of expertise.
---
Proud to present our new website
27 September 2023
Every now and then I think about what I can do differently and what I should keep the same. The website of my company GPP Support … well … that could use a remake.Over the past few months, I have…
Patrick van Oirschot will chair the 2023 3D Pharma Printing day
18 September 2023
Patrick van Oirschot will chair the 2023 3D Pharma Printing day Patrick van Oirschot will moderate the 3D Pharma Printing day during the 2023 edition of the 3D Medical Conference on 28 November. Click here for the programma.
Recommendations
Marc F.
Consultant-chercheur.
Patrick has huge abilities in change management, in project engeneering, and knows perfectly hospital and pharmacy environment. I really enjoyed to animate with him a masterclass for hospital pharmacists. He develops a high level of management knowledges and training capacities.
Endorsements
Supply chain management 24
Management 22
New Business development 19
Supply chain 14
Logistics 12
+32 more
Endorse
Function
Managing Partner
GPP Support B.V.
may 2013 – now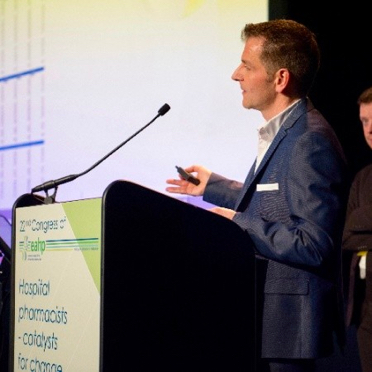 Speaker at the 2021 online EAHP congress – 3D medicines printing: adding an extra dimension to personalised precision medicine
There is a need for tailoring medicines according to a patient's specific needs due to his/her genetic profile, phenotypic response, and pathophysiology. To enable the manufacturing of individualised oral medication in a scalable manner, new …
Recommendations
Bas Henrichs
Professional in Learning & Development en Innovatie Management.
I've met Patrick as an open minded straight forward man with a firm belief in making good relations work. Patrick is a serious, sympatric and empathic guy who knows his business and at the same time is a pleasure to hang around with.
Our clients
GPP Support's partners have worked for hospitals and care institutions, extramurals, knowledge institutes and different types of industries.